First thing's first: what is the Nashville-Style Tele, how is it wired, and can you can modify your Telecaster so it produces its tone?
A Nashville-Style Tele is just a Standard Telecaster with three pickups instead of two, and a five-way selector switch instead of a three-way selector switch. This Mod was created by Tele players looking to coax some Strat-style tones out of their Telecaster while still retaining that crucial Neck + Bridge pickup combination not found on the Strat.
Fender has created an "Off The Shelf" Nashville-style guitar called the Fender Deluxe Nashville Tele that has many nice features, including "Noiseless Pickups," a contoured Neck Heel, Locking Tuners etc.
Fig 1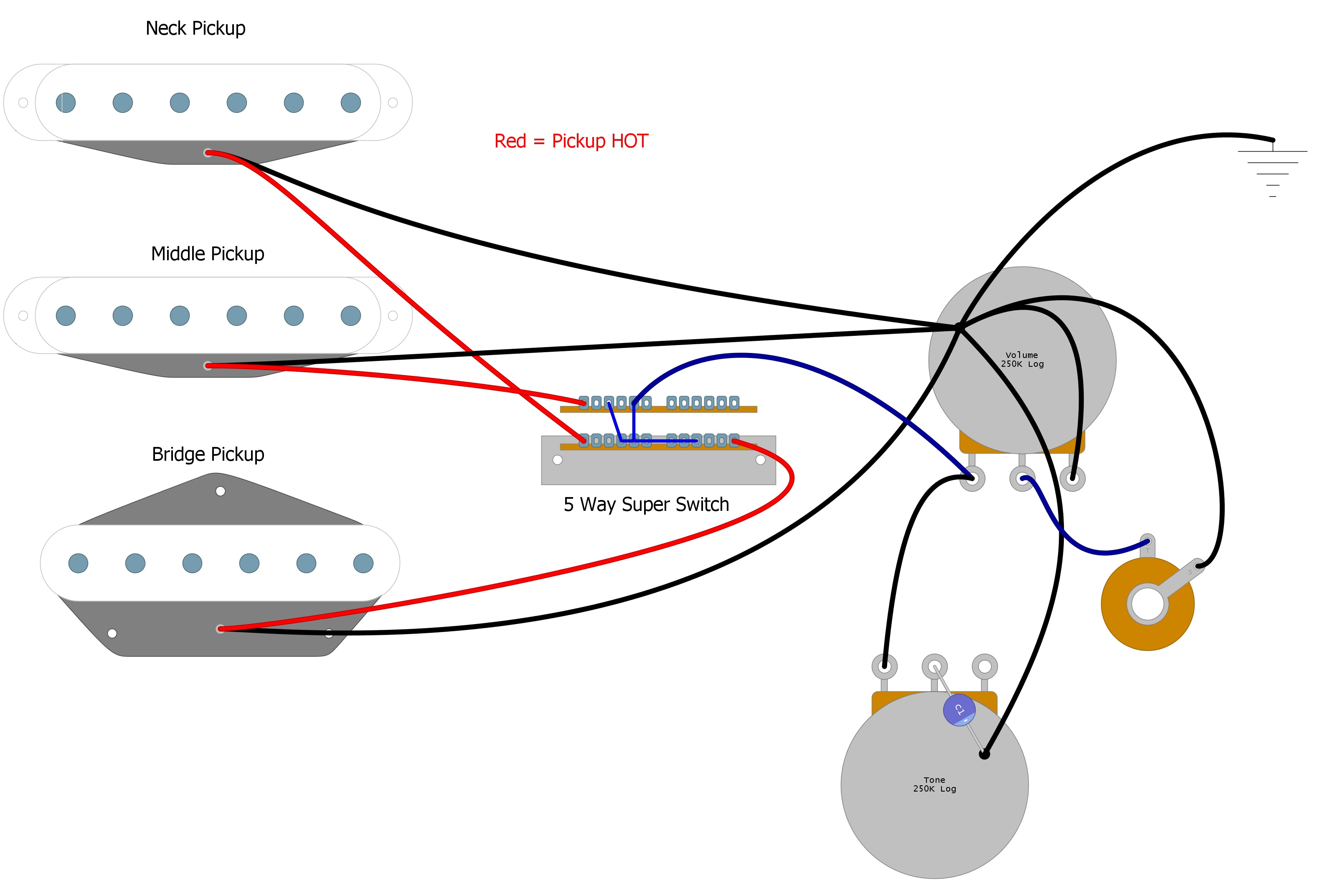 The first, and most obvious difference between the Standard Tele and the Nashville Style Tele is the addition of a third "Middle" pickup. This allows it to resemble a Stratocaster's three-pickup design, but the wiring is still a little bit different. Unfortunately, installing this third pickup will put this mod out of reach for many of us who are not familiar with woodworking and do not have the ability or the tools to route out our own pickup hole. If you can do it yourself, or you know someone who can, you're very lucky.
If you drill the hole and you are wondering which pickup to use, there are two main things to consider. The first is that the Middle pickup will need to be Reverse Wound with a Reverse Polarity compared to that of the Neck and the Bridge pickups. This will ensure that the pickups are "In Phase" with each other and will be "Hum Cancelling" when multiple pickups are selected at the same time.
The next thing to be concerned about is that the new pickup is compatible with those already in place. You will want to consider the pickups' output level so they're not loud or quiet when you switch them. Pickups also have a sort of "flavor" and some go better together than others. Many people use the Fender Stratocaster's Middle pickup with good results, and there are many third party Middle pickups available.
The next thing we need to do to adapt your Standard Tele for Nashville Style wiring is to change the three-way switch into a five-way switch. On a Standard Tele the three switch positions are Bridge, Bridge + Neck, and Neck. With the five-way switch installed, the positions will be Bridge, Bridge + Middle, Bridge + Neck, Middle + Neck, and Neck. In contrast, the five positions of a five-way switch on the Stratocaster are Bridge, Bridge + Middle, Middle, Middle + Neck, and Neck.
To get the Neck + Bridge pickup combination in the middle position we will need to use a five-way super switch to accomplish the wiring. A regular five-way switch has two stages with four lugs in each stage (1 Common + 3 Hot); a five-way super switch has four stages with six lugs in each stage (1 Common + 5 Hot). Adding a super switch presents another problem to the Mod community, as the electronics chamber in a Tele is often not large enough and could require more routing to make room.
Once you have the parts in place the wiring diagram in Fig 1 should be pretty easy to follow — just a few solder joints and your Nashville Style wiring modification will be complete.
Another great use for this wiring diagram would be for Strat owners who want to get that Telecaster Neck + Bridge tone but don't want to use the 7-Sound Mod we discuss in another article. You would lose the Middle pickup by itself, but you gain the Neck + Bridge combo. Strats lend themselves much more easily to this mod because they already have three pickups and often have more room in the electronics compartment to accommodate the super switch.
If you've found this article helpful, please feel free to share this with your friends on Facebook and Twitter. For more articles on guitar electronics, visit humbuckersoup.com.