Let's discuss the Seymour Duncan SM3 wiring and how you can install this miniature humbucker into your guitar. The SM3 features two overwound coils with a high carbon steel blade in each. The steel blades help provide a more even output during string bends, and they eliminate misalignment. The SM3 uses an Alnico 5 bar magnet for extra strength and warmth.
These pickups provide plenty of mid-range while remaining open and transparent. The SM-3 is different from the SM-1 and SM-2 models because the steel blades have a higher carbon content. They have a high gain output and are available with chrome or gold covers.
Wiring Code
To install any type of pickup into your guitar, you only need to know which wire is the Hot and which wire is the Ground. Which colors are which is called the pickup's wiring code. Single coil pickups only have two wires, so you stand a fifty-fifty chance of picking the right one. However, humbucker pickups usually have four colored wires plus a bare wire. You will need to tie two of the colored wires together, and you will need to connect the bare to one of the remaining colors as well. If you do not know the wiring code for the pickup you want to install, you will need to either look up the manufacturer or use a multimeter to figure it out the hard way.
Luckily, we know the Seymour Duncan wiring code, and it's as follows.
Black = HOT
Red and White = Tied together
Green and Bare = Ground
This wiring code is represented in Example 1.
Example 1
Wiring Diagram
Once you know the wiring code of your pickup, installation is very easy. You only need to solder the Hot wire to your switch or volume control and the Ground wire to the back of the volume pot. You can see, in Example 2, what the wiring looks like.
Example 2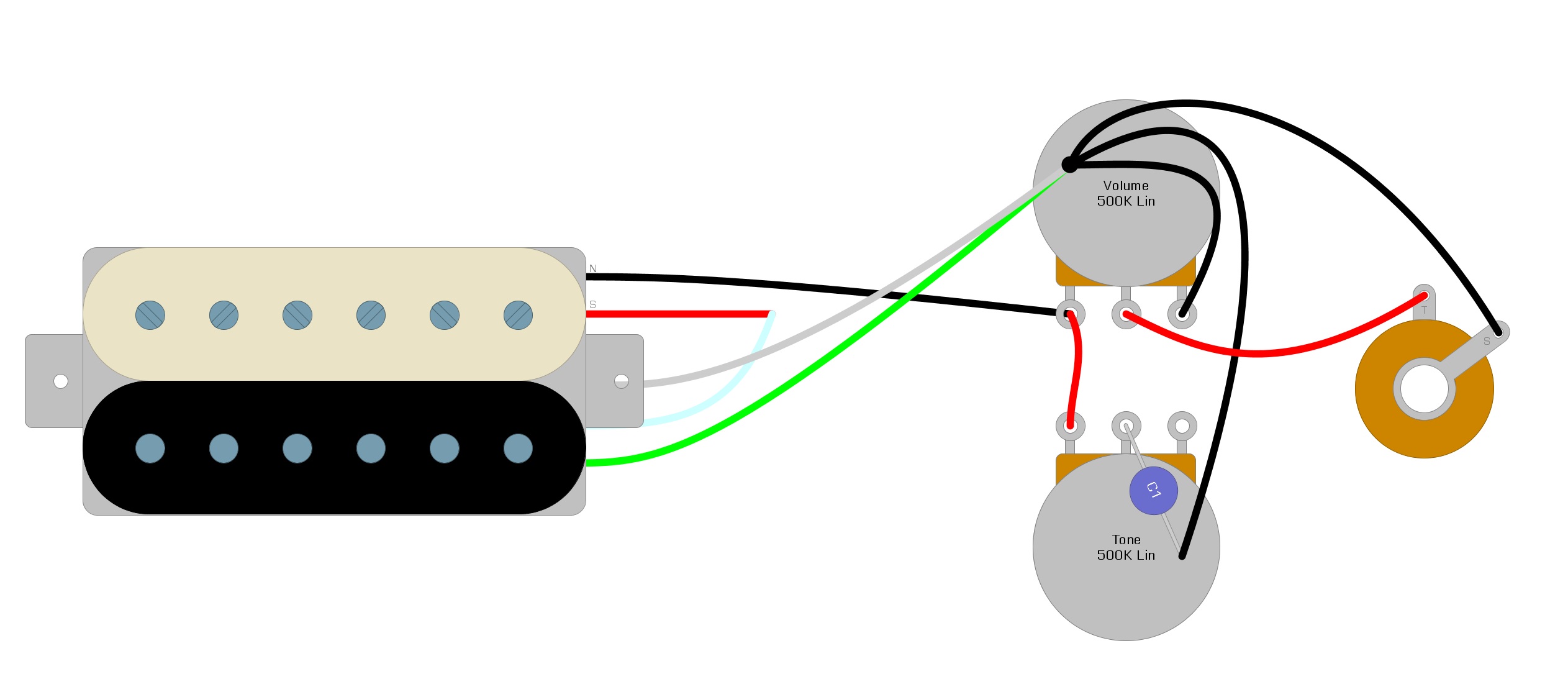 Who Uses the Seymour Duncan SM3?
Many popular guitarists use the Seymour Duncan SM3, including Paul Stanley of the rock band Kiss and Al Schnier of Moe. These pickups sound great when playing heavy metal and provide enough balance and clarity to be useful for clean guitar parts as well. You can use them in any solid body routed to fit them. These pickups also sound good in hollow and semi-hollow body guitars.
Conclusion
Changing the pickups in your guitar can be a great way to improve your tone, and the Seymour Duncan SM3 mini-humbucker will not let you down. Completing this wiring is quite straightforward, and you can complete it in a few minutes with only a soldering iron and a screwdriver. Changing your pickups is a great way to begin learning the craft of modifying your guitar.
We hope that you have found this wiring guide interesting and helpful. If you have enjoyed it and learned something new, please feel free to share it on Facebook and Twitter. For more article on guitar electronics, visit humbuckersoup.com.