In this post, we'll talk to one of our readers who has his own guitar-based business: Anthony Turco. Anthony is the founder of Ampturco Guitar Werks, a business that makes drop-in wiring harnesses for guitars.
For many people, wiring a guitar is a challenge. For example, some wiring schemes are complex and hard to find on the internet. There's also the concern that if you change something and it doesn't work, you don't know if you did it wrong, or if you just got bad information.
At Ampturco Guitar Werks, Anthony Turco solves this problem by creating custom-ordered wiring harnesses that you can install into your guitar with a minimum amount of soldering or know-how.
Everything, from standard pickup configurations to complex modifications requiring push-pull pots and toggle switches, can be custom ordered. All components are the highest quality, and soldered with great care and superb craftsmanship. Sure, there are a few big-name companies that can provide similar services, but with Ampturco Guitar Werks, you're talking directly with the guy doing the work.
Ampturco Guitar Werks Contact Information:
Phone: (570) 762-0391
Web: facebook.com/ampturcoguitarwerks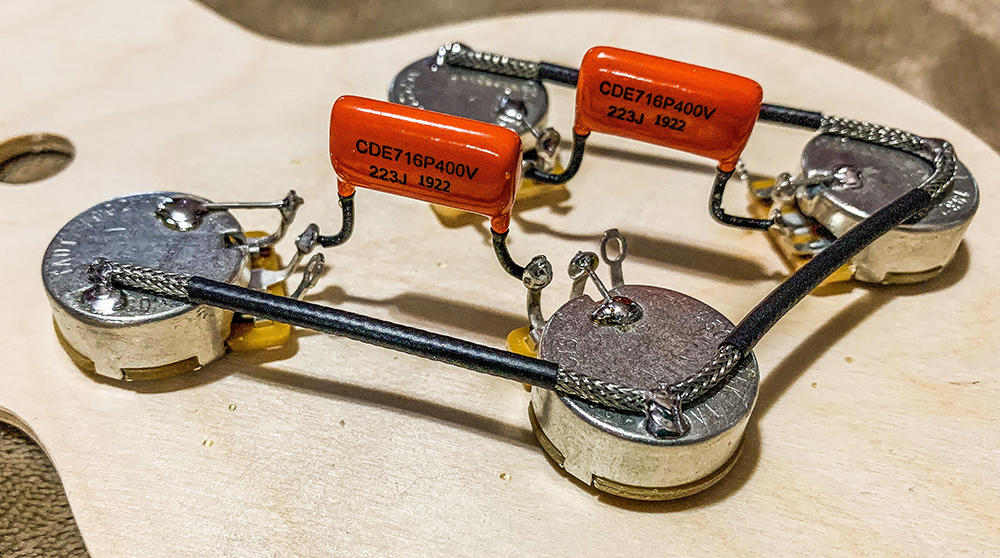 Let's meet Anthony Turco and get a better feel for his business.
Hi, Anthony. Let's start with the name of your business, and where you're located.
It's called Ampturco Guitar Werks, and I'm located in Clarks Summit, Pa.
Have you always lived in the area?
Yes, I moved to Pennsylvania when I was six years old.
Is there a story behind the name of your company?
Ampturco is a nickname I came up with, and it stuck. I used to use it as a hashtag on Instagram to keep all my guitar videos together.
How long have you been in the business of wiring guitar harnesses?
I only started doing the harnesses about a year ago, but I've been in the electronics field for many years as a building automation programmer.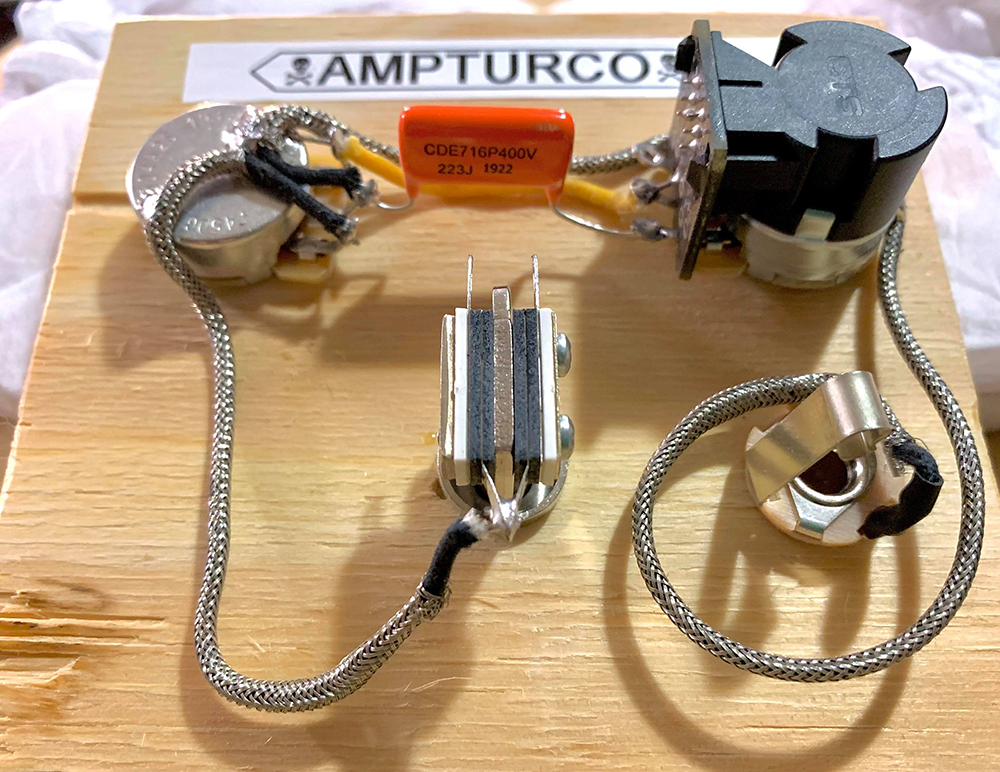 What got you started in the guitar wiring business?
I've been playing guitar for about 20 years and have always been into music. I've also always been a huge gear nerd, and I'm very into how things work and how I could make my tone better. In September of 2018, I, unfortunately, suffered a very traumatic vehicle accident, which I barely survived. I suffered major life-threatening injuries and had a long road to recovery, which I am still on. Since I was out of work, I thought, maybe I could do something from home to help supplement our family's income and also find a way to feel useful again. I've always loved the quest of chasing good tone, and I've also found a huge interest in trying to help others achieve great tone. I love helping people realize a lot about the tone path that maybe they hadn't thought about before.
Are there any particular brands of guitars that you like to stick to, or do you create wiring harnesses for any guitar?
I will absolutely create any harness any customer would ever desire. I started by doing a lot of Gibson style guitars, but I've done loads of others and really have zero preference.
How about guitar modifications — do you sell mods like treble bleed?
I don't sell one specific mod or anything like that. I'll always talk with the customer, discuss what I know, and work with them to achieve the tone they're after. If someone wants a treble bleed on the circuit, I'll gladly add that.
How about foot pedals and amplifiers; do you work on those as well?
Yes, I will work on those as well. I've built a few pedals from kits and have done repairs. I also provide biasing of tube amps, and have, and will do repairs on amps as well.
Tell us about the pots, capacitors, and connecting wire you use.
I'll start with the pots. I use a company out of California called The Art Of Tone. They make a design for CTS and have their own branded pots that are manufactured by CTS. They are excellent! They have a great feel to them, are not loose feeling, and they have a tolerance of 5%, which, to me, is excellent.
I found a great recipe for humbuckers and P90s from testing a lot on my guitars using 525k-550k pots. The higher value sends, what I like to call, good treble to the output instead of bleeding it off to ground. I've done this on all my guitars equipped with those pickups and I've done several customers guitars like this too and had excellent results.
As for capacitors, I like to use Sprague Orange Drops. I use them mainly for their reliability and quality. I will use any capacitor a customer specifies, but the Orange Drops are my go-tos. I've done a lot of testing on my own guitars with paper in oil caps, and I've never heard one sound difference between them unless the value was different. I think there is a lot of fairy dust sold in the guitar industry and unfortunately, a lot of us fall for it. I've been that person myself many times.
The wire I use is the vintage-style cloth push back. I usually use yellow, since it's my wife's favorite color, but I would use anything a customer specified.
Do you have any preferences concerning the value of the capacitor?
Value-wise, I find the usual .022uf works great for humbuckers and p90s, and .047uf great for single coils. I do use a .05uf in my Tele which I found works a lot better than a .047. If I recall correctly, the Tele original wiring used a .05.
How many watts is your soldering iron, and what solder brand do you use?
I use a Hakko Fx888D Digital soldering station. It's 70watts, with adjustable temperatures. As for solder, I've been experimenting with quite a few different brands, so I can't say I've found my set favorite yet.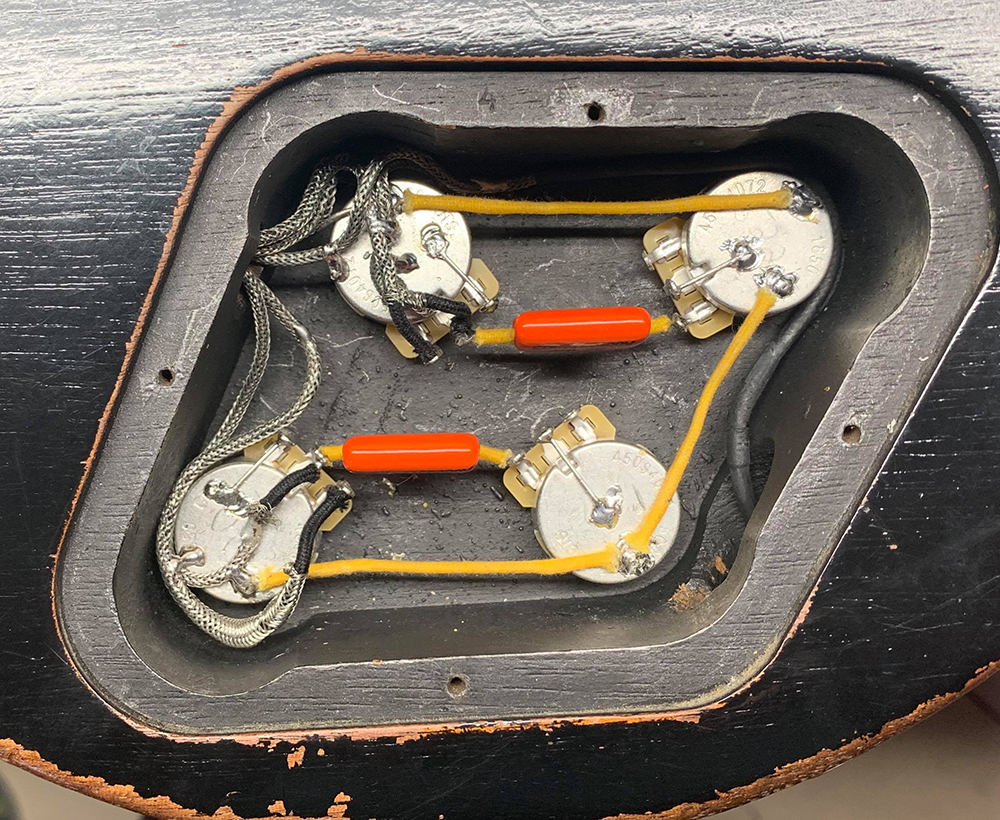 What other tools are required to create a wiring harness?
I use wire cutters, wire strippers, a screwdriver, soldering clamp arms, which are great for holding things in place, and a jig to provide the correct spacing for different model guitars. Stew-Mac makes excellent jigs for a lot of different models.
Where does most of your business come from? Is it from local musicians, or is yours more of a web business?
I've been doing quite a bit locally, but most of it comes from online Facebook groups I belong to and Reverb.com.
You are a guitarist yourself. Tell us about some of your favorite gear.
I love Gibson SGs and Fender Telecasters. I own one Telecaster that over the past 11 years, I morphed into an Esquire. I own two Gibson SGs. One is a 2019 SG Standard '61 Reissue and the other is a 2018 SG Junior. Right now, my go-to amp is my Orange Rockerverb MkIII 50 watt head. That thing is a total beast and can pull off just about any tone desired. I also have a custom made hot-rodded Plexi type 50 watt head. This amp is a very cool total one-off that a guy built, and I was lucky enough to grab it.
If someone needed some work done, how would they contact you?
They can reach me through my Facebook page, AMPTURCO Guitar Werks, or they can contact me by telephone at (570) 762-0391.
How long does it typically take to receive a harness after one has been ordered?
Usually, a harness is shipped within five business days, and delivery time will depend on where it's being shipped to. I also ship internationally.
Conclusion
Well, you've heard it from the man himself! Anthony Turco and his Ampturco Guitar Werks can help improve your guitar tone in as little as five days. He'll work with you on any wiring harness you need, as well as any customization. No more hunting down hard to find schematics, or soldering hard to see wires. Anthony can fix your amps and pedals as well. Just give him a call at (570) 762-0391, or contact his Facebook page.