Reader Question: Entwistle x90 Les Paul Wiring Diagram
Hello,
I'm rebuilding a Les Paul Gold top copy (Custom77 French Builder) as a first guitar rebuilding project.
I bought the wood part and took off all the electronic parts to start from scratch, with just the basics.
Wiring was unreadable and so badly made, compared to all of my 20 guitars, it was probably modified by a newbie like me, but without real care, and it was not working at all.
So starting from scratch, I bought a pair of x90 (modern ceramic) from Alan Entwistle to test their good reputation (I have also a pair of Seymour Duncan Vintage p90 for next step).
I'm looking for a wiring diagram and a list of components that would help to reach the potential of pickups without selling my flat :).
Could you provide a resource?
Thanks in advance for your reply as well as for all the work you generously share with us.
All the best for you and your family in this strange situation.
Vincent, from Orléans (France)
Answer
Hello Vincent, thanks for the great question. We've never used Alan Entwistle x90 pickups, so it was a pleasure to learn more about them. Hopefully, we can help get you on the right path.
Luckily, both the Entwistle and the Seymour Duncan pickups use the same wiring code, so you can use the same diagram for both brands, and the component list will be the same as well.
Part 1: Wiring Diagram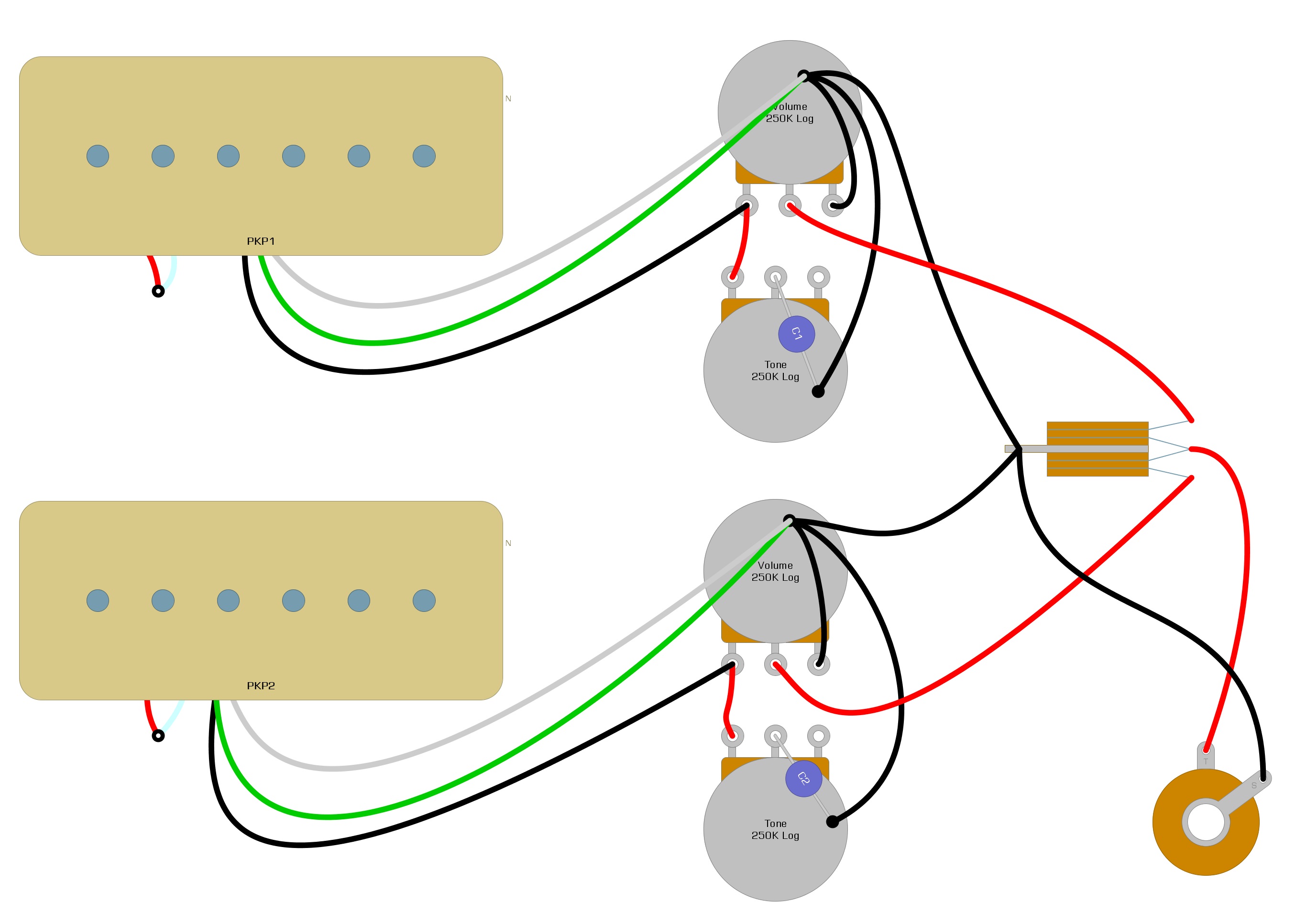 Let's start with the wiring diagram. There are a few variations, but the diagram shown in Example 1 is probably the most popular. Remember to tie the red and white wires together and tape them off.
Part 2: Components
4 Volume and tone controls are 500k pots. If you feel the guitar is too bright, you can warm it up some by using 250k pots. We recommend starting with audio taper pots, but many people like to use linear taper in the tone control. You may want to experiment after you get it running.
You will need a three-way toggle switch but not necessarily the Gibson three-way toggle. Any 3-way switch with three tabs on one side and a ground on the other should work as long as it fits in the hole.
Many older Les Pauls used a .047uf capacitor on each tone control (two total). A more common modern value is the .022uf capacitor. You may want to experiment by going even lower to .01uf as some people feel it gives a broader tone control range.
The output jack should be the last thing you need, to get the guitar running.
NOTE: The links are only to show you what the components look like. I didn't look to see whether or not these particular parts are up to par.
That should cover your question. If something got left out or you need any further clarification, please don't hesitate to ask.